Holobtsi & Pirohy Sale - Dec. 17 10am-12pm
Last Updated (Thursday, 08 December 2016 04:37)
Bulletin for December 4
The Entrance of the Theotokos into the Temple
Soon after the beginning of the Nativity Fast (Advent), the Holy Church celebrates the Feast of the Entrance of the Most-Holy Theotokos into the Temple. Here we encounter the holiness of Mary a small child separated from the world, brought to live in the Temple a life set apart, consecrated, and in a state of intimacy with God something that all of us are called to be. We also see in this Feast a comparison between the Temple of stone and Mary, the Living Temple the Temple of the Savior for she will bear God the Word the God-Man in her womb, thus showing herself to be a holier Temple than that at Jerusalem. It is the Living Temple the instrument of the Incarnation which sanctifies the Temple built of stone.
According to the Inner Tradition of the Church, the Entrance into the Temple took place in the following manner: The parents of the Virgin, Joachim and Anna, when praying for the resolution of their barrenness, gave a vow that if a child was born, it would be dedicated to the service of God. Thus, when the Most-Holy Virgin was three years old, her holy parents resolved to fulfill their vow.
Last Updated (Wednesday, 07 December 2016 04:52)
Bulletin for 27 November
Concerning Faith and Works
I believe that man's natural virtue -- whatever its degree -- cannot save a man and bring him to eternal life. The Scriptures teach: "All our righteousness is like unto a menstrual rag" (Isaiah 64:6

). The fulfillment of the works of the Law does not permit us to demand or to merit something from God. Not only do we have no merits or supererogatory works, but Jesus Christ enjoins us that when we have fulfilled all the works of the Law, we should esteem ourselves as nothing but "unprofitable servants" (Luke 17:10

). Without Jesus Christ, a man's personal virtue, his repute, his personal value, his work, his talents and his faculties matter but little; they matter only insofar as they test his devotion and faith in God. Our faith in Jesus Christ is not an abstraction but rather a communion with Him. This communion fills us with the power of the Holy Spirit and our faith becomes a fertile reality which engenders good works in us as the Scriptures attest "which God prepared beforehand that we should walk in them" (Ephesians 2:10

).
Last Updated (Tuesday, 29 November 2016 06:18)
Bulletin for November 13
Veterans Day Pictures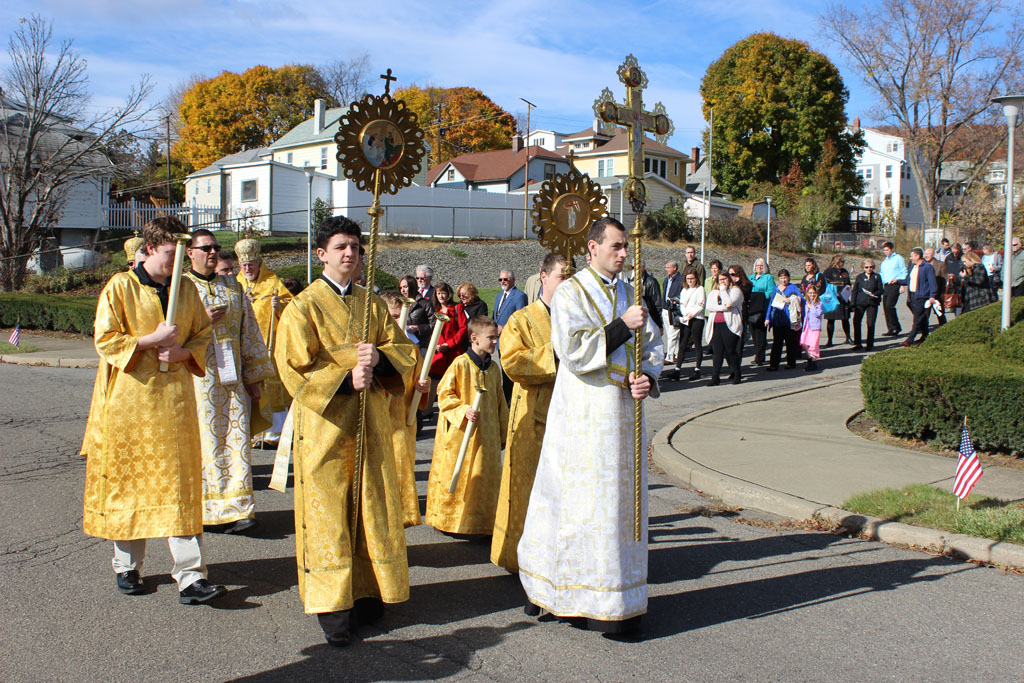 Great appreciation is extended to our photographers: Dr. Peter A. Hatala, Jeffrey Hatala and Seminarian Gryhoriy! Below is the link to selected 199 pictures they have taken.
http://cms2.hrimno.com/?q=en/Pictures
Last Updated (Friday, 18 November 2016 04:00)
Donate to St. John's
Online Donations to St. John Parish are being accepted now.
Online Donation is through the secure PayPal system. You can also create monthly recurring payments wether you have PayPal account or not. So do not hesitate – just donate! Click the button below!
Last Updated (Thursday, 17 March 2016 09:05)
Welcome to Saint John "The Baptist" Ukrainian Orthodox Church
Our Parish is a member of the Ukrainian Orthodox Church in the U.S.A. Our Church is a part of the Ecumenical Patriarchate of Constantinople with His All-Holiness, Patriarch Bartholomew being the 270th Successor to the Apostle Andrew.
Our Parish is part of the Eastern Eparchy (Diocese). Our ruling Bishop is His Eminence, Metropolitan Antony of New York and Washington, D.C. .
Our Church doors are always open to anyone who hears the voice of Christ calling them to "Come and See." Although we are extremely proud of our Ukrainian heritage, most of the Divine Services are celebrated in English and are sung according to our traditional melodies. It is the purpose of our Parish Family to bring the Gospel message of Our Lord and Savior Jesus Christ to as many people who hear the call of Christ and are searching for a Church that follows the Apostolic tradition that was given to the first Apostles by Christ, Himself. Our Church is a Church that was born on Pentecost Sunday and has traveled the road of 2000 years steeped in Apostolic tradition and Apostolic succession in its lineage of Bishops.
In the future, this part of the Web Page will contain Parish News—explanations of our Services, a more in depth look at events happening in our Parish as well as in the Orthodox world. If you are interested in learning more about our Ukrainian Orthodox Church in the U.S.A., then return to our home page and click on the section for our Diocese.
We hope that you will e-mail us at the bottom address of our Home Page and let us know what you think of our page. Please feel free to e-mail us any questions that you might have about our Parish Family or our Orthodox Faith.
May God bless you and keep you always in His tender loving care!
Click form to print
STEWARDSHIP PRAYER

My Church is composed of people like me.
I help make it what it is.
It will be friendly if I am.
Its pews will be filled, if I help fill them.
It will do great work, if I work.
It will make generous gifts to many causes,
if I am a generous giver.
It will bring other people
into its worship and fellowship,
if I invite and bring them.
It will be a church of loyalty and love,
of fearlessness and faith,
and a church with a noble spirit,
if I, who make it what it is,
am filled with these same things.
Therefore, with the help of God,
I shall dedicated myself
to the task of being all the things
that I want my church to be.

AMEN.



Last Updated (Friday, 02 January 2015 07:57)