Bulletin for June 26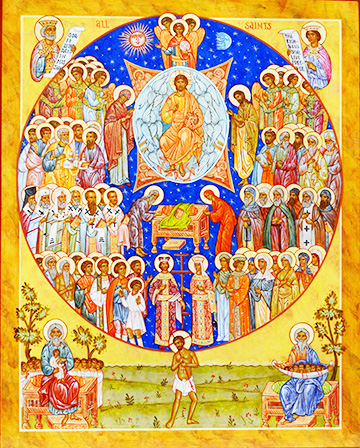 Why Saints?
We don't have saints in my church.  We focus only on Jesus and the Bible…
We don't have saints in my church.  We can pray directly to Jesus, we don't have to go through a "middle man".
It is not uncommon as we rub shoulders at work and school with people of different faiths that we are challenged to explain what we believe and why we believe it.  I once worked with a nurse who was very proud that her Church was "just Christian without any of those 'add ons'.  One of the "ad ons" that she was referring to and a part of our Faith that is often challenged is our devotion and veneration of the Saints.  Some Christians, such as my nurse-friend have the uninformed notion that such devotion crept into the Church at some late century,  say the Middle Ages, and that pure, apostolic Christianity had no such practice as the honoring of Saints.
Last Updated (Monday, 27 June 2016 02:57)
Bulletin for 19 June
The Descent of the Holy Spirit (50th day after Pascha)
On the 50th Day after Pascha, the Holy Church celebrates the Feast of the Descent of the Holy Spirit (Holy Pentecost). When the Day of Pentecost had come, they were all together in one place. And suddenly a sound came from heaven like the rush of a mighty wind, and it filled all the house where they were sitting. And there appeared to them tongues as of fire, distributed and resting on each one of them. And they were all filled with the Holy Spirit and began to speak in other tongues, as the Spirit gave them utterance (Acts 2:1-4

).
Last Updated (Monday, 20 June 2016 18:27)
16-17 July — Ukrainian Days Festival
Last Updated (Saturday, 21 May 2016 12:36)
Donate to St. John's
Online Donations to St. John Parish are being accepted now.
Online Donation is through the secure PayPal system. You can also create monthly recurring payments wether you have PayPal account or not. So do not hesitate – just donate! Click the button below!
Last Updated (Thursday, 17 March 2016 09:05)
Welcome to Saint John "The Baptist" Ukrainian Orthodox Church
Our Parish is a member of the Ukrainian Orthodox Church in the U.S.A. Our Church is a part of the Ecumenical Patriarchate of Constantinople with His All-Holiness, Patriarch Bartholomew being the 270th Successor to the Apostle Andrew.
Our Parish is part of the Eastern Eparchy (Diocese). Our ruling Bishop is His Eminence, Metropolitan Antony of New York and Washington, D.C. .
Our Church doors are always open to anyone who hears the voice of Christ calling them to "Come and See." Although we are extremely proud of our Ukrainian heritage, most of the Divine Services are celebrated in English and are sung according to our traditional melodies. It is the purpose of our Parish Family to bring the Gospel message of Our Lord and Savior Jesus Christ to as many people who hear the call of Christ and are searching for a Church that follows the Apostolic tradition that was given to the first Apostles by Christ, Himself. Our Church is a Church that was born on Pentecost Sunday and has traveled the road of 2000 years steeped in Apostolic tradition and Apostolic succession in its lineage of Bishops.
In the future, this part of the Web Page will contain Parish News—explanations of our Services, a more in depth look at events happening in our Parish as well as in the Orthodox world. If you are interested in learning more about our Ukrainian Orthodox Church in the U.S.A., then return to our home page and click on the section for our Diocese.
We hope that you will e-mail us at the bottom address of our Home Page and let us know what you think of our page. Please feel free to e-mail us any questions that you might have about our Parish Family or our Orthodox Faith.
May God bless you and keep you always in His tender loving care!
Click form to print
STEWARDSHIP PRAYER

My Church is composed of people like me.
I help make it what it is.
It will be friendly if I am.
Its pews will be filled, if I help fill them.
It will do great work, if I work.
It will make generous gifts to many causes,
if I am a generous giver.
It will bring other people
into its worship and fellowship,
if I invite and bring them.
It will be a church of loyalty and love,
of fearlessness and faith,
and a church with a noble spirit,
if I, who make it what it is,
am filled with these same things.
Therefore, with the help of God,
I shall dedicated myself
to the task of being all the things
that I want my church to be.

AMEN.



Last Updated (Friday, 02 January 2015 07:57)